Tucked away in a prime University Place location, this 2,115-square-foot home has been lovingly maintained over the years and is move-in ready! In addition to 3 bedrooms and 2.25 baths, you'll find this home's sprawling layout includes elegant living spaces as well. A 3-car garage promises added versatility, and just wait until you see the idyllic outdoor getaway with a gazebo and putting green! Located at 4402 66th Ave W University Place, WA 98466, this residence is listed for $529,500.
Here are just a few of this home's top highlights: 
1. Prime University Place location. 
First of all, this location in the heart of University Place is hard to beat! Enjoy being in a picturesque residential setting and surrounded by greenery yet merely minutes to city convenience. Bridgeport Way is only a 2-minute drive from home, and here you can easily access places like Whole Foods, Harbor Greens, Trader Joe's, Safeway, Walgreens, the library, Homestead Park, several eateries, local services, and much more! 
2. Beautifully maintained living spaces. 
From the moment you step in through the impressive entryway, this home delights at every turn. In the main living area, vaulted ceilings, a cozy gas fireplace, abundant natural light, views into the backyard oasis, and an elegant neutral color palette characterize this sophisticated space. The layout flows into the dining room, and your living space expands even more thanks to this property's outdoor offerings. 
3. Bright & spacious kitchen. 
A smart layout features shimmering quartz counters, double ovens, generous storage in handsome cabinetry, and everything you need to whip up meals and entertain with ease. Bar-style seating and the adjacent dining nook ensure there's room for everyone, and sliding doors make it easy to enjoy al fresco dining whenever the mood strikes. 
4. Sumptuous master suite. 
In addition to a wonderfully spacious bedroom layout, the master suite offers built-in closet space and a spa-inspired ensuite bath. Imagine unwinding in a luxurious bubble bath after a long day and then snuggling up in bed, surrounded by a calm, relaxing color palette! 
5. Thoughtful amenities make it as easy as possible to keep the home running smoothly. 
In addition to features like new furnace/air in 2019, a central vac, a security system, and energy efficient windows, this home also features a large laundry room with tons of storage, a sink, and all the space you need to keep home essentials organized. This home also comes with a 3-car garage that includes a workbench—you have more than enough room for storage and hobbies thanks to all of this added flexibility! 
6. Gorgeous outdoor retreat! 
One of this property's top highlights is definitely the outdoor oasis. An expansive wrap-around deck is ready for sunbathing, barbecues, and summertime parties, and absolutely stunning landscaping artfully wraps its way around the entire property. You'll find a water feature, a garden shed, sprinklers, a gazebo, and thoughtful touches at every turn… including a putting green! Those who love to garden and spend time out in the fresh air are especially in for a treat with this property's garden getaway! 

Interested in learning more? Click here to view the full listing! You can also contact REALTOR® Therese Gesch online here or give her a call/text at (206) 550-9407.
Built in 2011 and brimming with gorgeous updates, this 2,700-square-foot home is nestled on an incredible 2+ acre property replete with potential. In addition to 3 bedrooms, 2.75 baths, and stylish living spaces shining with sophistication, this home also includes a 2nd kitchen for added flexibility. You'll also find dynamic outdoor offerings, including a 2-car detached garage, a chicken coop, park-like garden space, and so much more. Located at 2323 40th Ave E Tacoma, WA 98446 in Tacoma's scenic Midland area and just 3 minutes to Highway 512, this home-sweet-home is listed for $605,000. 
Tucked away in a secluded setting, this timeless beauty is ready to become your forever home. A charming front porch welcomes you, and as soon as you step inside, sundrenched open-concept living awaits. Elegant finishes shine like new, and the inviting living area looks out into the lush outdoor setting that shows off the Pacific Northwest's natural beauty!
Vinyl plank flooring that's wonderfully easy to care for guides you right into the immaculately updated kitchen, a thoughtfully designed space that shows off top-notch efficiency. Newer appliances are in the mix, and huge counters offer more than enough room to spread out whether you're having a baking marathon or meal prepping for the week ahead. Pristine cabinetry and a walk-in pantry offer generous space for keeping kitchen essentials organized as well. When it's time to gather for meals, the dining area is easily within reach, offering the ideal backdrop for everything from holiday get-togethers to laid-back meals any day of the week! 
This home's 3 bedrooms ensure that loved ones all have a private, comfortable retreat at the end of the day, and 2.75 baths sparkle with updates. The must-see master suite offers a spacious bedroom layout, a walk-in closet, and an absolutely dreamy ensuite bath. Contemporary design lends itself well to this spa-inspired getaway, and a corner soaking tub is ready for indulgent bubble baths! 
Head upstairs to find extra bonus space (which could easily be used as a home office, den, hobby area, play room and more!), and flexible square footage that boasts fabulous possibility. You'll also find laundry amenities and a stunning 2nd kitchen here! Additionally, this home includes 2 heat pumps for comfort all year long, and the upper level even has its own heating/cooling system. 
Even more impressive offerings await outside, and 2+ acres promise that you have a quiet, peaceful sanctuary that's all yours. In addition to picturesque greenery that surrounds the home, a 2-car detached garage (with workspace and storage in the mix), a chicken coop, a fire pit, RV parking (with power), garden space and more are all yours. Imagine enjoying fruits and veggies you grew yourself, collecting fresh eggs each morning, spending the day gardening, then relaxing around the fire pit roasting hot dogs and marshmallows while the sun goes down… the lifestyle you've been envisioning for yourself awaits right here!
Living in Tacoma's Midland Area
At 2323 40th Ave E Tacoma, WA 98446, you're in a quiet, secluded location, yet you're merely minutes to city conveniences. Canyon Road is only 2 minutes from home, and places like Albertsons, the Summit Pierce County Library, Safeway, Walgreens, McLendon Hardware, and several other shops, eateries, and services are easily accessible from here. Highway 512 is only 3 minutes from home, a definite perk for commuters. 
Interested in learning more? Click here to view the full listing! You can also contact REALTOR® Therese Gesch online here or give her a call/text at (206) 550-9407.
How are you doing with school at home with your children?
Feeling a little lost with what to do? It can be difficult to create a plan when you don't know where to begin.
First reach out to your local school and ask what curriculum and support is being provided. If you are on your own for a bit, get creative. With short attention spans, children do best with lessons broken into chucks with breaks between for movement activities and a snack.
Getting back to basics and keeping things simple will help reduce the stress with this new adventure. With this change in the daily routine, kids may have heightened stress just like adults. Children thrive knowing what to expect next so creating a schedule is a good strategy. Sit down with your child and make a schedule together, children love to be a part of the process. You will get more "buy in" if they help with the planning and know what is in it for them. Explain why the lessons will help them and what they will be able to do with the information.
Cooking is a great way to learn and spend quality time together while teaching children life skills. Children can learn to read, measure, do math and learn about food sources. They can also learn about good nutrition. Teach why good food is important and how it affects the body. That can lead into a health lesson about the organs and systems of the body.
There are other life skills that can be taught at home while using the needed academic skills. Think of your job and how your knowledge can be transferred to be age appropriate and used as life skills?
Any books or areas of interest your child has will get them more engaged and excited to read. Does your child show interest in animals, nature, how things work, building things? Let your child create a reading chart. Give them the responsibility to choose the book, set the time and how they will use the information they have learned. They can create art to communicate what they have read, write a poem or a story.
Make an art station in a part of your home that can be available for children to go and be creative when the moment strikes. Children may not be able to communicate how they are feeling with words but with art they can let loose! Children can make cards to send out to their friends who are also having to stay home.
Remember pen pals? Have a pen pal writing party. Writing a letter addressed to a friend or family member is a fun activity. Children love receiving mail and by sending a card or letter they are more likely to get a response back! If your child is too young to write, you can be the scribe and write what they tell you. They can decorate the letter and envelope with their own art. Encourage letter writing to more than one friend with a request to write back soon!
For many years homeschool families have had great success with at home learning. There is a plethora of online resources that share ideas and have printable pages for all ages. You can enroll your student in a full online school program that is already set up. There are companies that provide curriculum approved for your state (check with your state for requirements). Hybrid learning, using online and a mix of curriculum, can break up the lessons and keep students engaged.
Working from home and trying to be a full-time teacher to your children comes with challenges, but it can be a good time to have quality family time. Remember to connect with other parents who are also finding a new normal. Support each other and share ideas.
Take advantage of this time and look upon it as an opportunity to be more involved in your child's learning. With a new appreciation for our teachers and how much they provide for our students, remember to let them know how much they are respected and valued! Positive things come from challenges that come our way unexpectedly.
You got this!
Below are local resources that are under used, including your local public library and bookstores!
Many local bookstores have online shopping available. Check with your smaller local stores first to continue supporting them during this difficult time.
Kings Books
https://www.kingsbookstore.com/

218 St Helens Ave Tacoma WA 98402
253-272-8801
Tacoma Book Center
http://www.tacomabookcenter.com/
24 E. 26th Tacoma, WA 98421
253-572-8248
Tacoma Community College
https://www.tacomacc.edu/tcc-life/campus-services/bookstore
253-566-5040
Teaching toys and books
2624 N Proctor St, Tacoma WA 98407
https://www.teachingtoysandbooks.com/
253-759-9853
Dightman's Bible and Book Center
https://mtlbookstore.com/?storeID=2
2941 S 38th St suite b, Tacoma, WA 98409
253-475-0990
UPS Bookstore
https://eposweb-528.sequoiars.com/
253-879-3270
Barnes and Noble
https://stores.barnesandnoble.com/store/
2832 Lakewood Mall, 5711 Main St SW, Lakewood, WA 98499
253-983-0852
Half Price Books
https://www.hpb.com/home#product-panel-home
4027 Tacoma Mall Blvd, Tacoma, WA 98409
253-566-1238
UW Bookstore
https://www.ubookstore.com/
253-692-4300 or 206-634-3400
Your Pierce County library card gives you access to everything from science experiments and full-text reference books to scholarly articles and help from live tutors—all online. Designed for grades K-12. Don't have a library card? Get one today.
https://www.piercecountylibrary.org/services/library-card/library-card.htm
Writing a paper? Need something more substantial than a Wikipedia entry? Pierce County Library has online databases you can use for research and homework help without having to leave home.
https://www.piercecountylibrary.org/
King County Library System
https://kcls.org/?_ga=2.212715732.178499070.1584561566-919585321.1584561566
Great blogs, website and resources provided by Homeschooling Along!
55 Places to Buy Homeschool Curriculum
https://homeschoolingalong.com/places-to-buy-homeschool-curriculum-and-supplies/
Here is a website that shows some top curriculum homeschool resources.
https://www.homeschool.com/blog/2018/02/check-out-the-results-from-your-votes-top-100/
Contemporary elegance and premium amenities are wrapped up into this rare 4,037-square-foot Seattle home that's tucked away in the highly desired Washington Park neighborhood. Not only is this home brimming with sophisticated living spaces designed with entertaining in mind, but you'll also find 5 bedrooms, 3.5 baths, and ADU potential as well! Located at 557 Lake Washington Blvd E Seattle, WA 98112, this well-appointed masterpiece is listed for $1,125,000.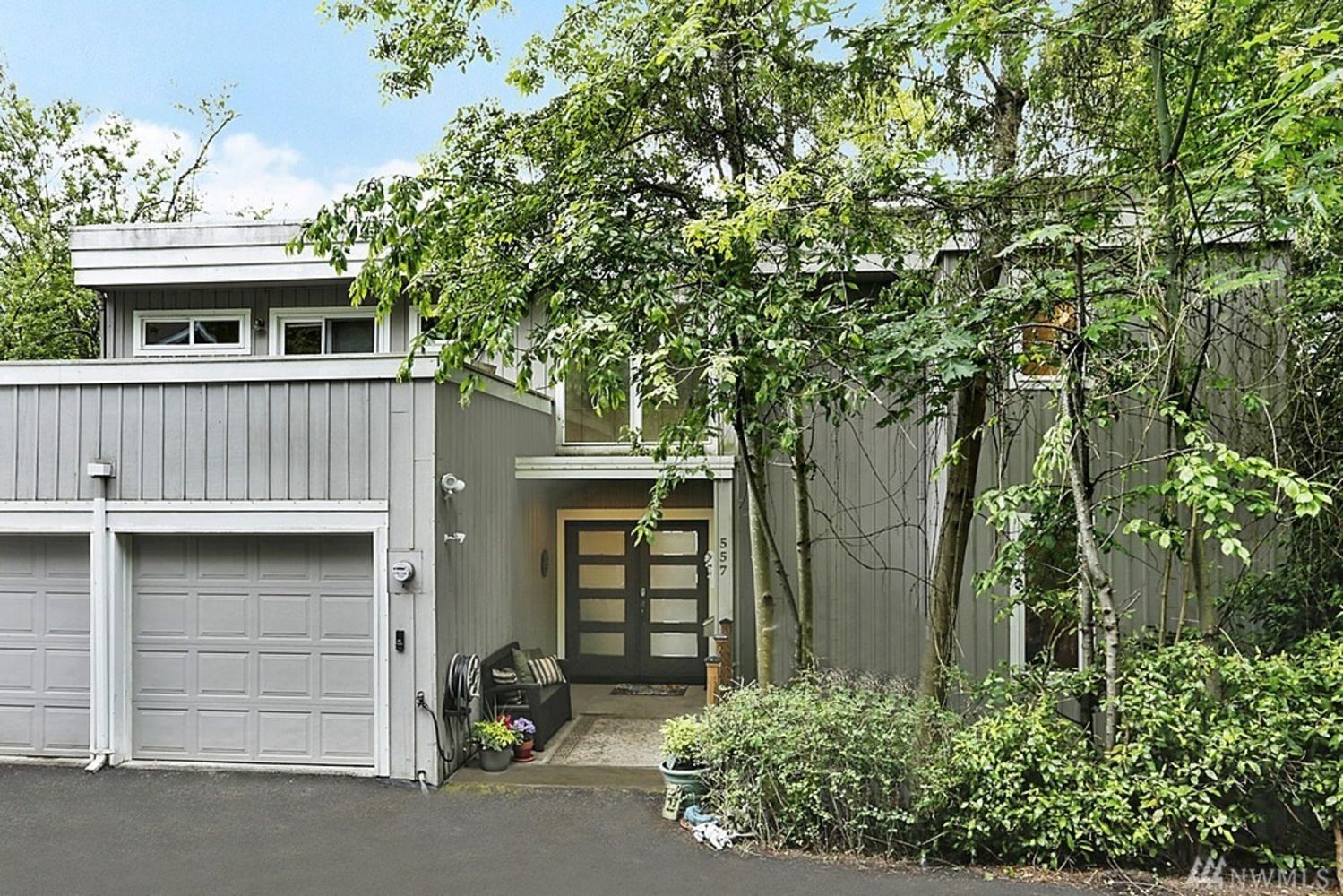 From the idyllic setting to the beautifully curated spaces that can be found throughout this residence, it's not hard to find a long list of things to love about it. But among this extensive list, I wanted to make sure to point out a few must-see highlights—here are the top 5 standout features of this home: 
1. Fantastic location in Seattle's Washington Park neighborhood. 
Nestled in an established residential neighborhood filled with beautiful, mature greenery, this home is still incredibly close to top city conveniences. The MLK Fame Community Center and the Bush School (an independent, private K-12 school) are just a couple blocks from home, and East Madison Street is just 0.2 miles away. Here you'll find buses that make it easy to get to Capitol Hill, Downtown, Madison Park and more. Enjoy being just a stroll away from shopping and popular dining spots like Nishino, Belle Epicurean Bakery, Pagliacci Pizza, Cafe Flora, Luc, and many more. You're also wonderfully close to outdoor opportunities like Washington Park Arboretum, Seattle Japanese Garden, Broadmoor Golf Club, Madison Park Beach, etc.!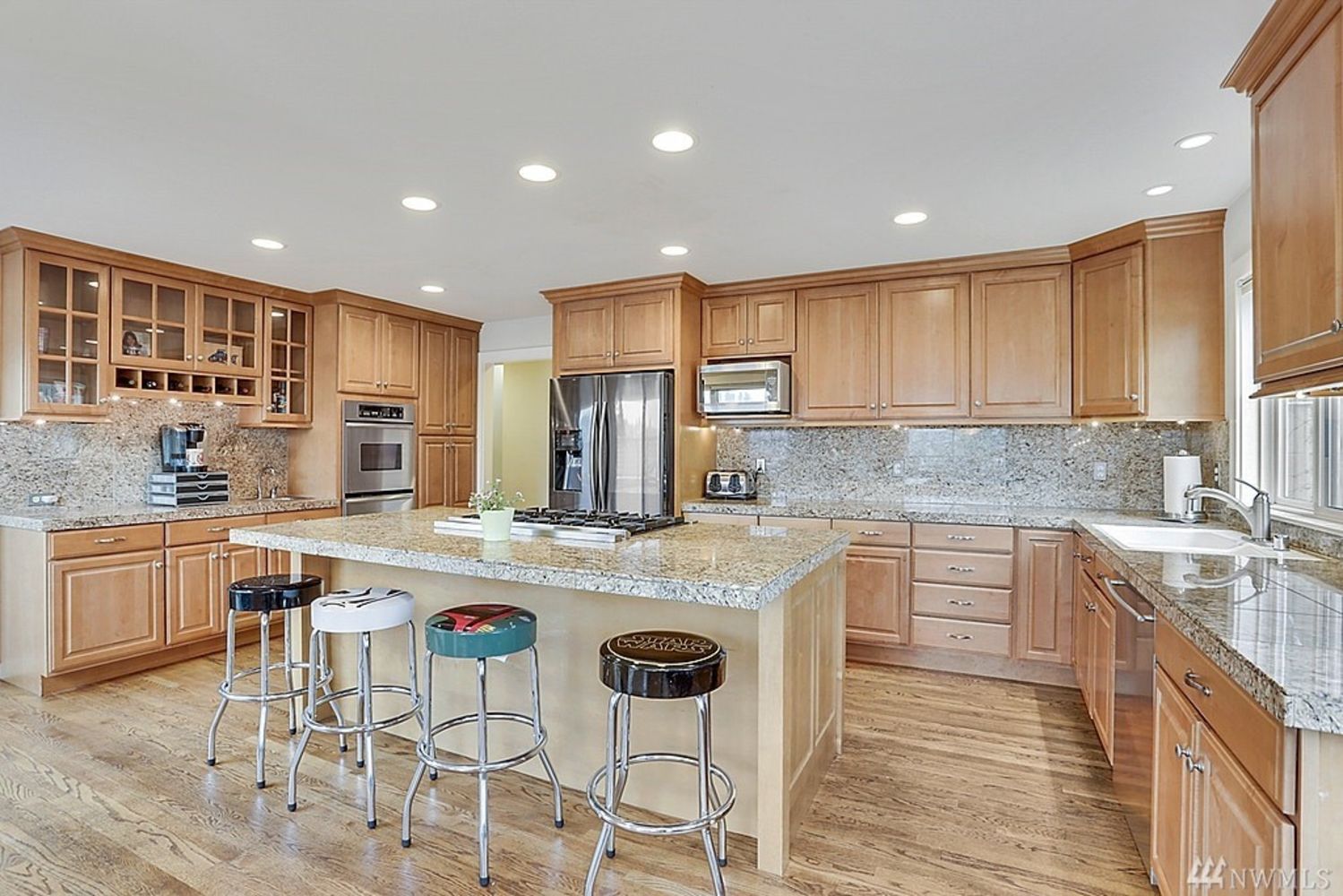 2. Well-appointed entertainer's kitchen. 
This home's pristine kitchen could easily be featured in a home design magazine with its shimmering granite counters, modern stainless steel appliances (which includes a double oven and gas cooktop), wet bar, and huge center island. Natural light pours into this gathering space, and a sunny nook, dining area, and balcony are all easily within reach from here and offer ample seating options when you're hosting a crowd.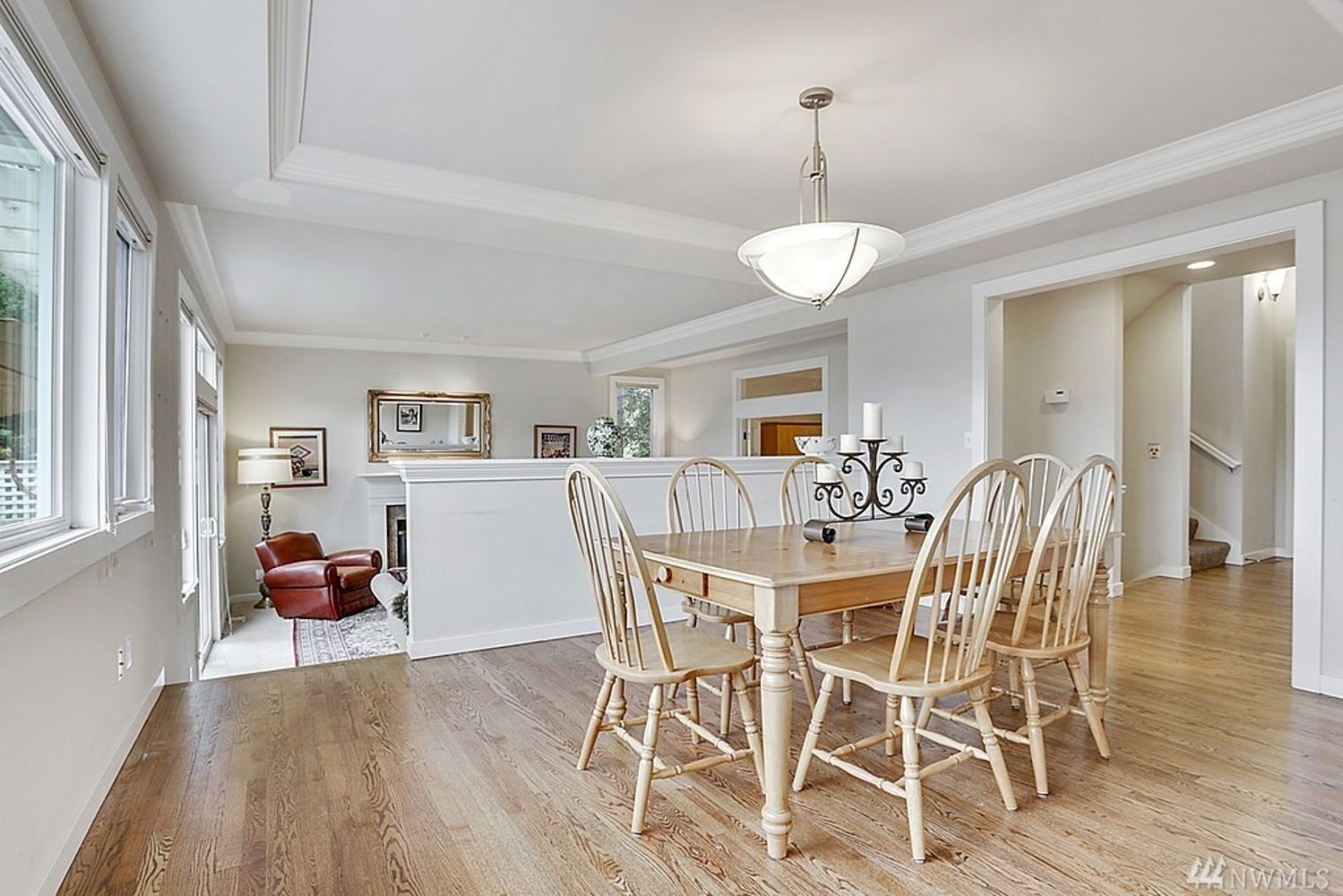 3. Potential for ADU in the basement. 
This home's sprawling layout also includes a separate living area in the basement with excellent ADU potential (buyer will need to verify with new City of Seattle legislation surrounding ADUs). There's a separate entry that gives guests access to their very own living room, kitchen, full bath, and 2 bedrooms.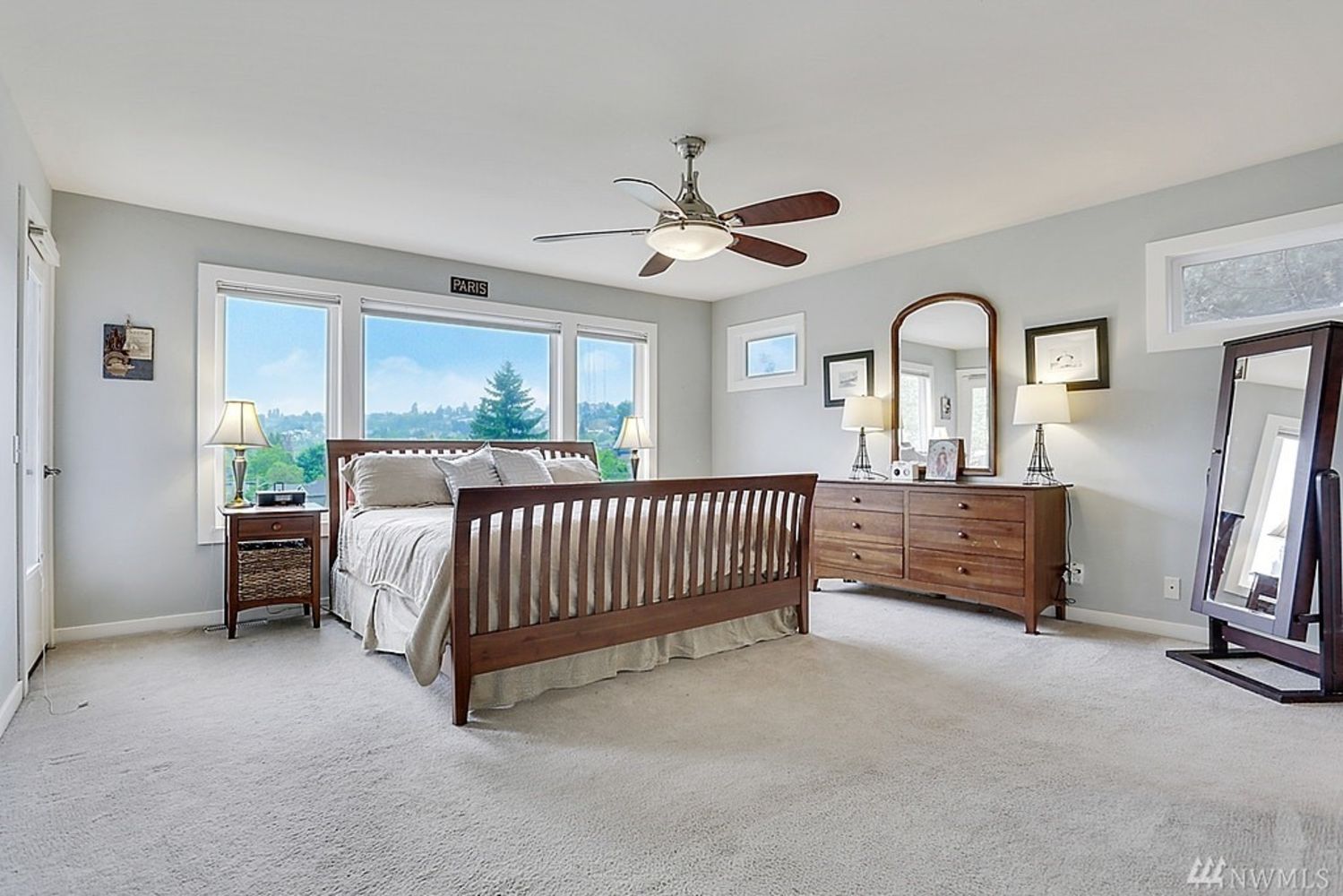 4. Resort-worthy master suite. 
When it's time to unwind, this master suite offers sumptuous amenities alongside elegant design. The extra-large layout is filled with natural light and offers lovely views of the surrounding scenery, and you definitely won't want to miss the spa-worthy ensuite bath. Exquisite finishes and a jetted tub accented with eye-catching tile details promise indulgent wellness routines in the calm, peaceful setting.
Plus, there are 2 more bedrooms on the upper level (along with the full bath, laundry, and den), so all loved ones can have their own private havens to retire to at the end of each day.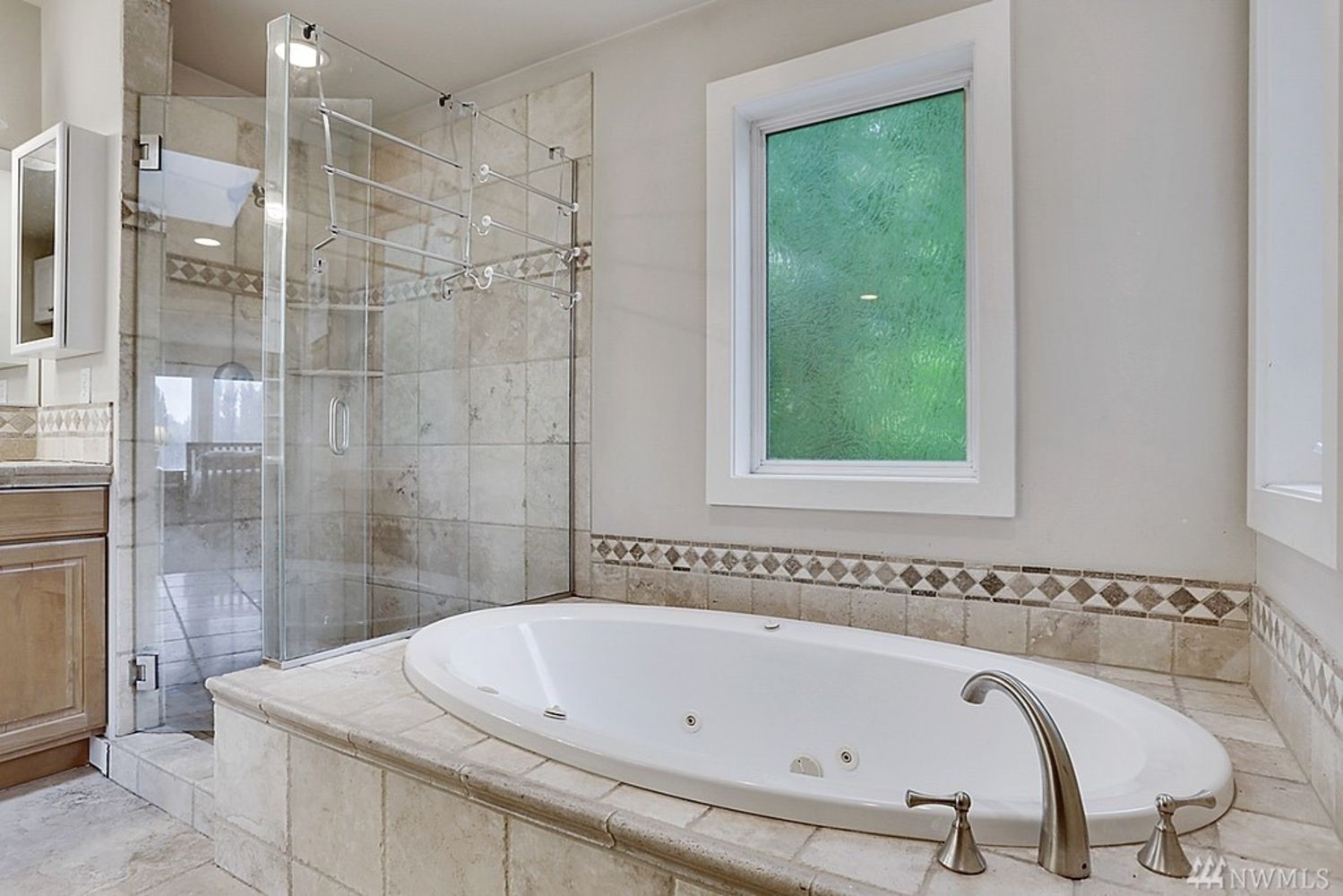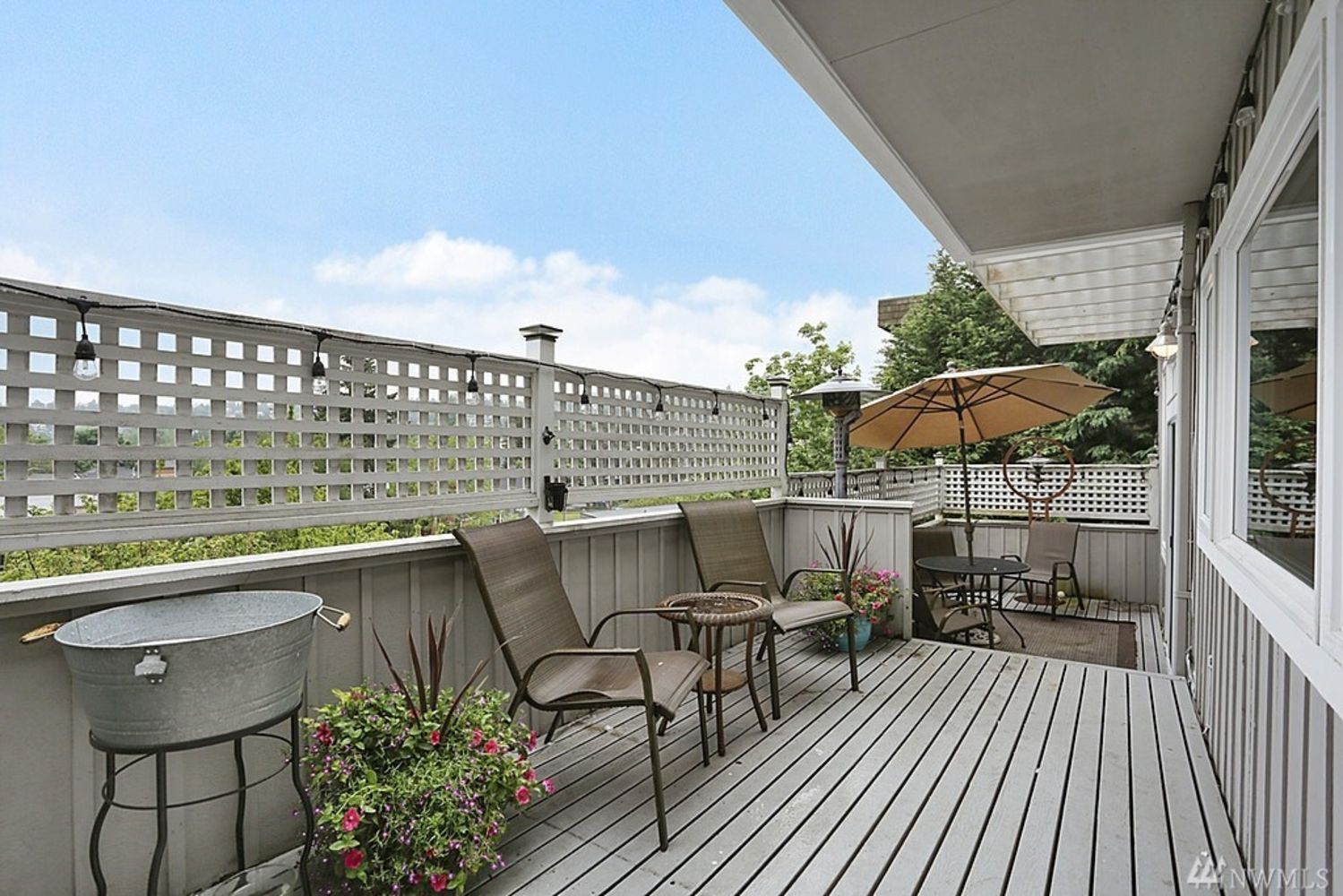 5. Scenic outdoor entertaining options. 
Opportunities for getting out in the fresh air without needing to leave the comfort of home are aplenty here thanks to the outdoor spaces that conveniently expand your living area. A deck is accessible right off the dining room and living room, and here you'll find plenty of space for al fresco dining and sunbathing. Lovely views that stretch on into the distance are also waiting for you up on the balcony! 
Interested in learning more? Click here to view the full listing! You can also contact REALTOR® Therese Gesch online here or give her a call/text at (206) 550-9407.
Tucked away in the gated Fox Crest neighborhood, this 3,378-square-foot Gig Harbor home is an absolute masterpiece through and through. In addition to exquisite living spaces designed with entertaining in mind, this home's palatial layout includes 4 bedrooms and 2.75 baths. Additionally, an oversized 4-car garage is wired for a generator and provides wonderful flexibility in use, and this home's gorgeous natural setting makes it all that much more dreamy! Located at 7712 31st St NW Gig Harbor, WA 98335, this home is listed for $720,000.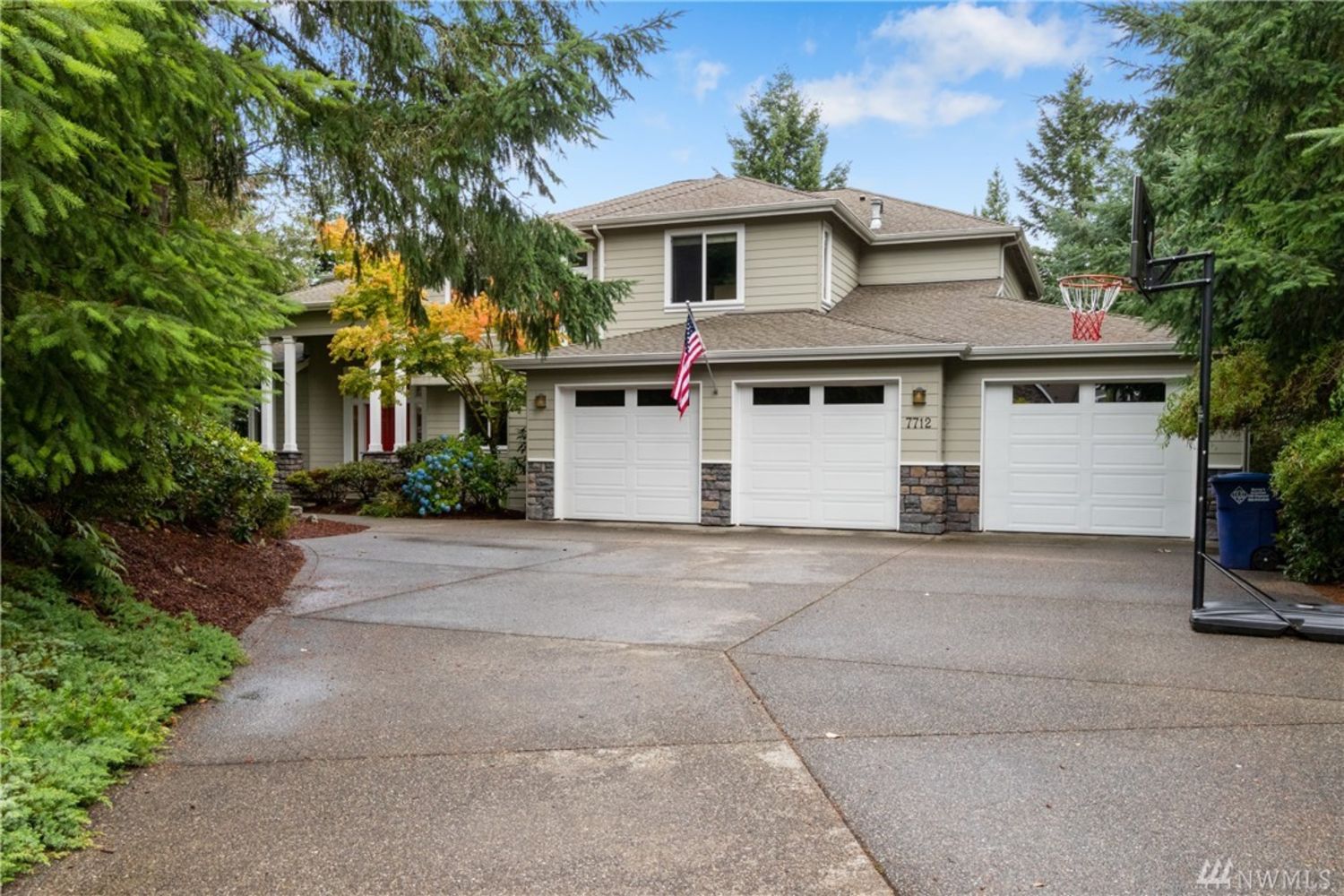 This gem is absolutely brimming with top-notch amenities and elegant style, and there are 4 showstopping features that are especially noteworthy. Here are the 4 top reasons why you won't want to miss seeing this Gig Harbor residence: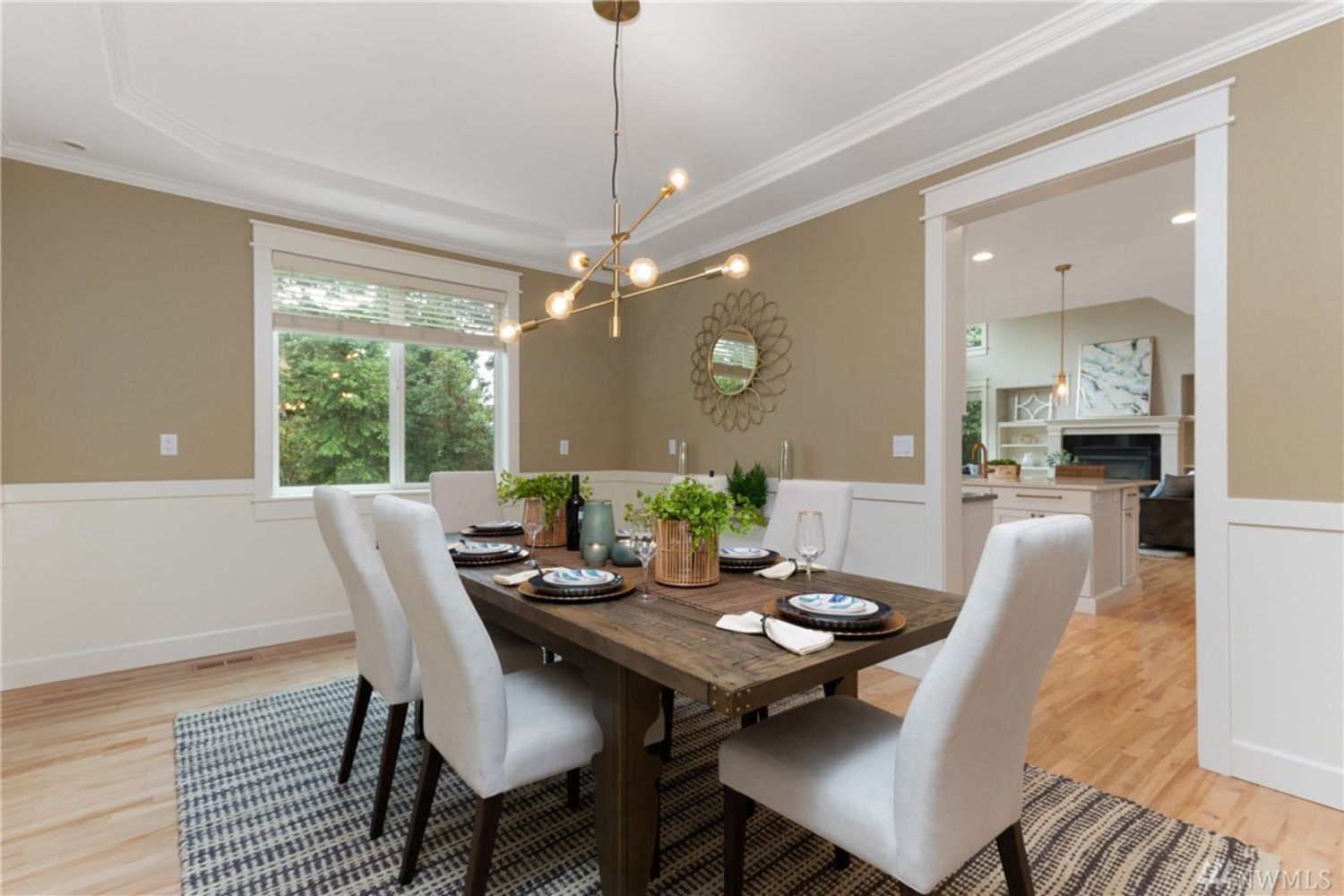 1. Contemporary design ideal for entertaining. 
As soon as guests step in through the front door, the impressive entryway ushers them into the formal living room and formal dining room. Exquisite trimwork, pristine flooring, eye-catching ceiling details, and strategically placed windows that fill each sumptuous space with natural light are all in the mix. Whether you're hosting a crowd for a special occasion or a holiday get-together, this home has the space for it all and makes hosting an absolute joy!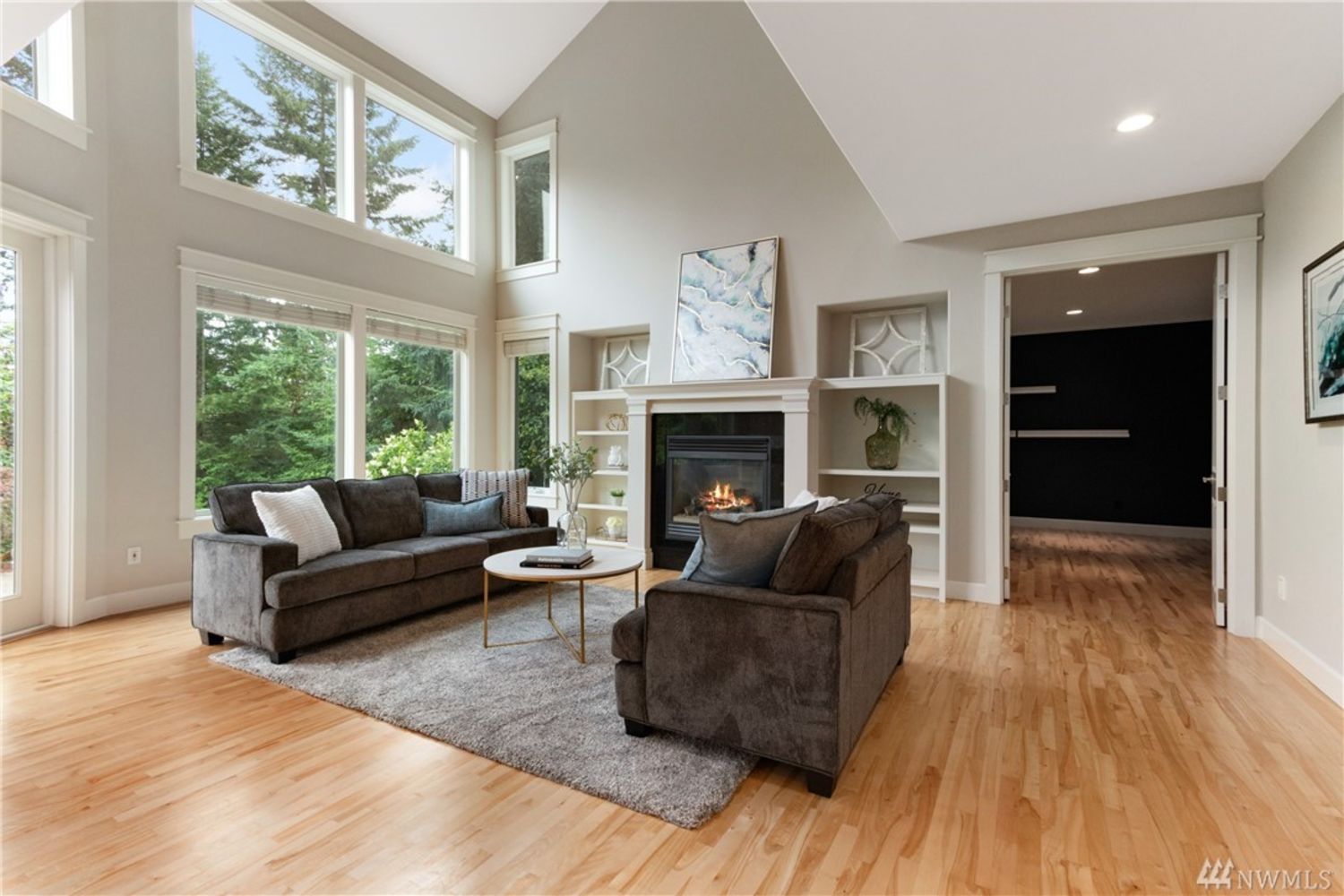 The same contemporary wonder can be enjoyed in the family room toward the back of the home, a relaxing haven with soaring ceilings, a wall of windows that invites in cheerful sunlight, and a fireplace framed by stately columns and built-ins.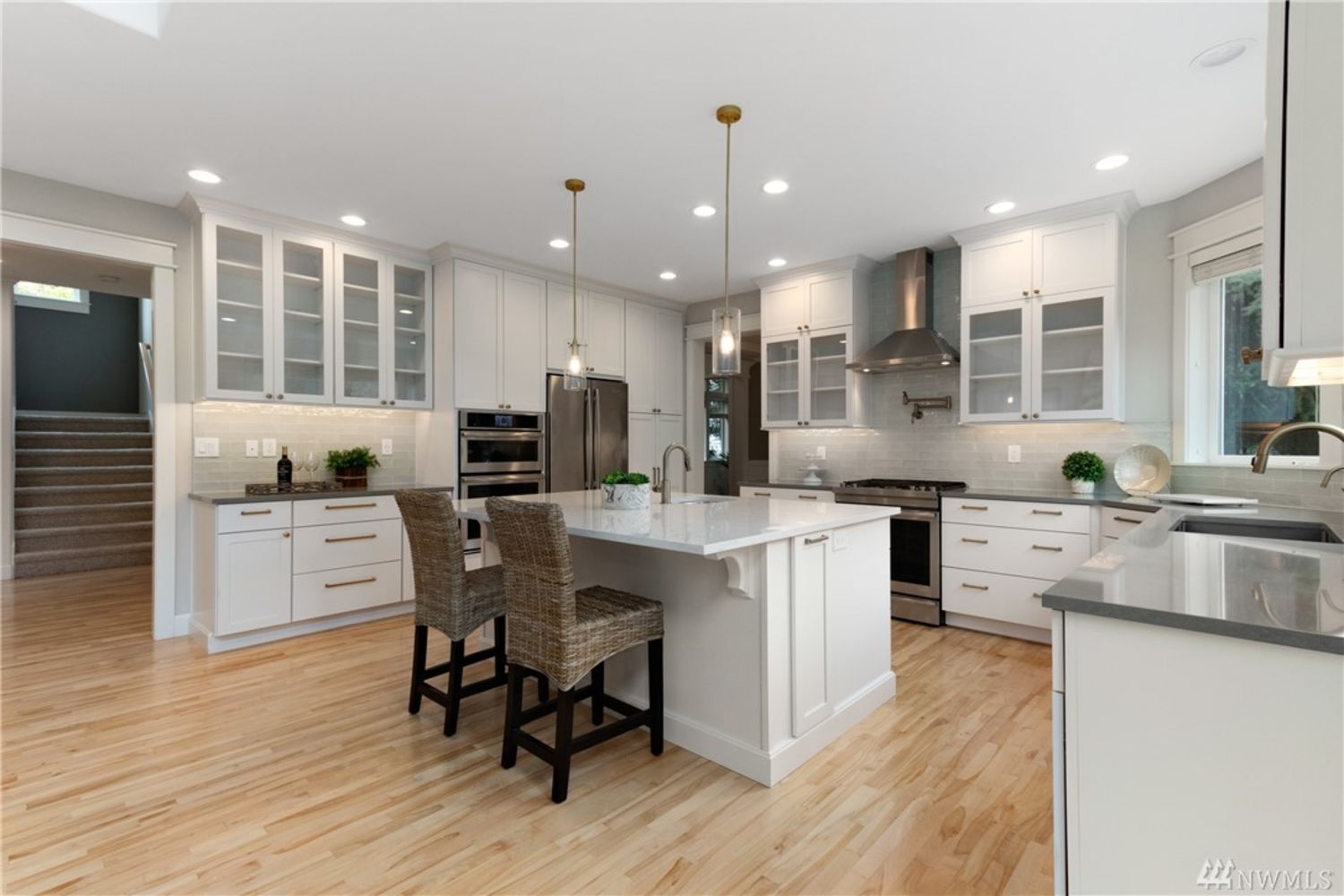 2. Chef-ready kitchen.
Conveniently right around the corner from the formal dining room, the chef-ready kitchen is the epitome of elegance and efficiency. Features like stainless steel appliances, double ovens, a pot filler, quartz counters, and eye-catching light fixtures are all in the mix. Plus, you can enjoy laid-back bar-style counter seating at the large center island.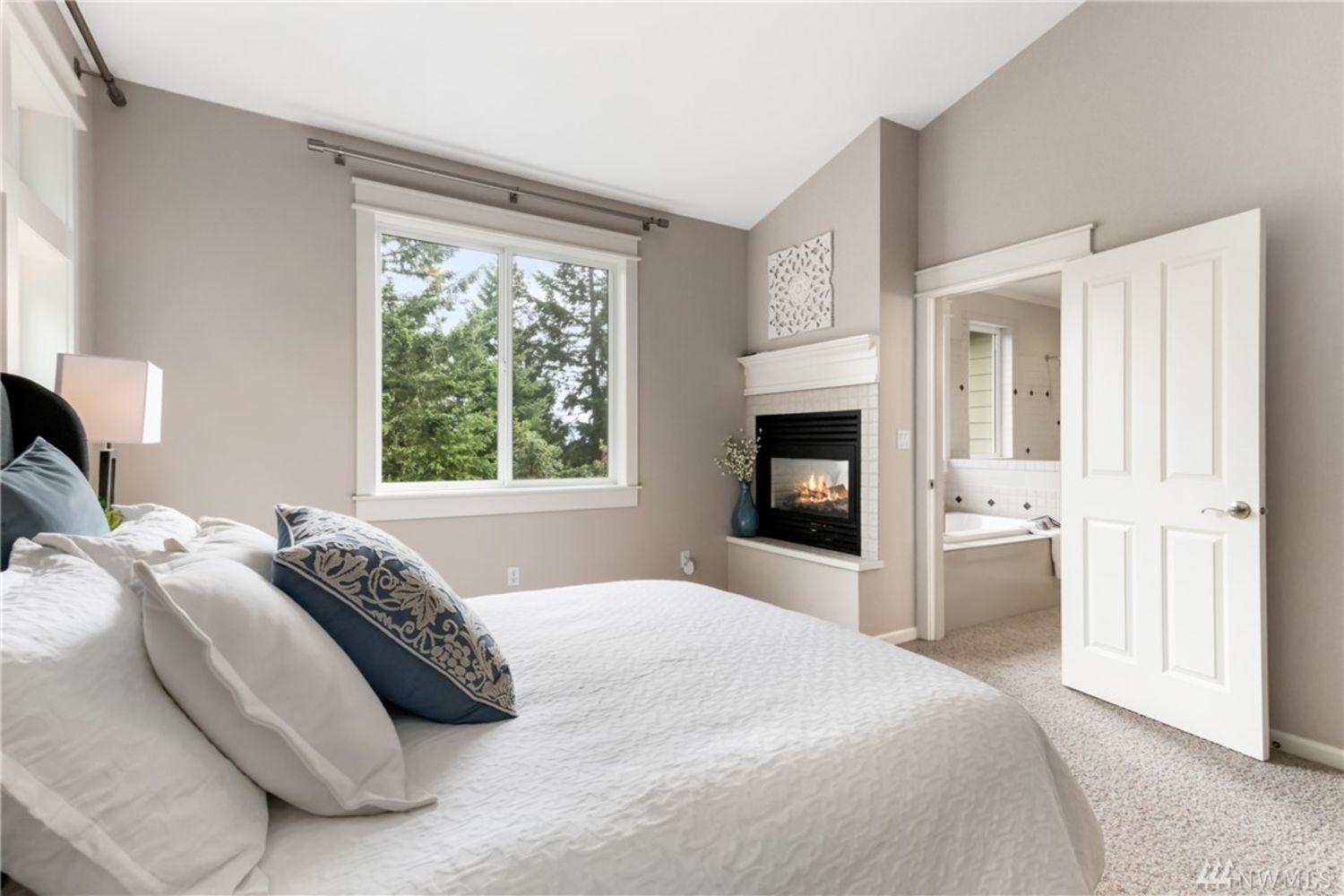 3. Sumptuous master suite. 
Each of this home's 4 bedrooms promise comfort and privacy, but the master suite is truly in a realm of its own! Vaulted ceilings and an extra-large layout create a spacious, inviting feel, while a double-sided fireplace helps to create a cozy vibe in both the bedroom and ensuite bath. Imagine enjoying a rejuvenating bubble bath with views outside and the fireplace at your fingertips—resort-worthy living is all yours! The 5-piece spa-ready bath includes a large shower as well, and the master suite also boasts a walk-in closet. 
4. Lush setting in Gig Harbor's Artondale area.
Mature Pacific Northwest greenery surrounds this home-sweet-home, and you can take in the scenic view right from the sprawling private patio. And even though you're tucked away in a secluded setting, you're still only 5 minutes to Gig Harbor Golf Club, 8 minutes to Uptown Gig Harbor, and 9 minutes to hop onto Highway 16.
Interested in learning more? Click here to view the full listing! You can also contact REALTOR® Therese Gesch online here or give her a call/text at (206) 550-9407.
Paradise awaits on 2.5 acres in Gig Harbor with this custom-built luxury property! Featuring an expansive 3,915-square-foot layout, this home includes 4 bedrooms, 3.25 baths, fabulous living spaces designed with entertaining in mind, and even a cabana with a hot tub, wet bar, sauna, and fireplace. You'll also find that the outdoor amenities are just as impressive—the idyllic scene also includes a patio and Koi pond surrounded by Pacific Northwest beauty. Located at 14426 88th Ave NW Gig Harbor, WA 98329, this masterpiece is listed for $815,000.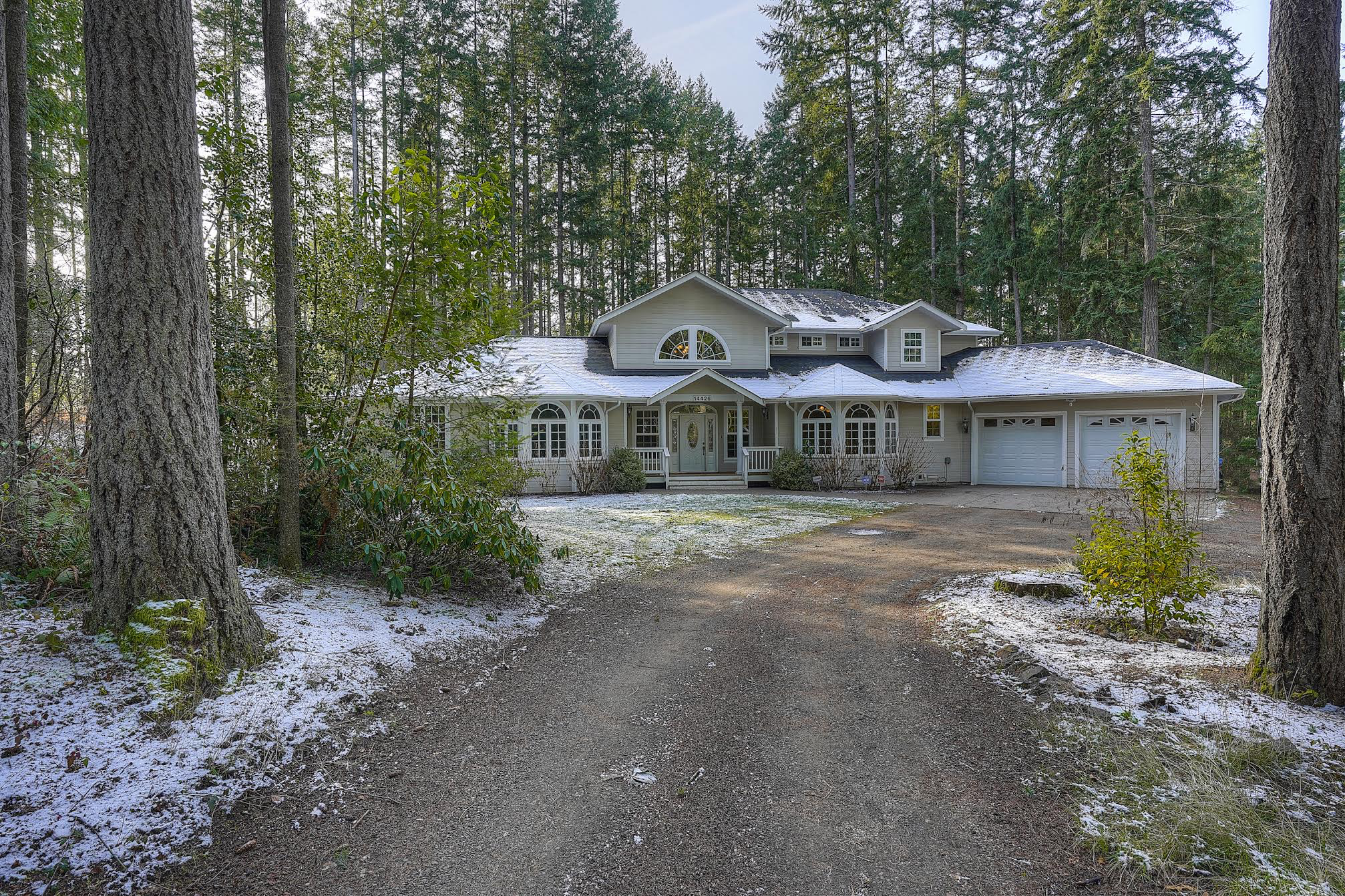 Built in 2005, this one-of-a-kind home has been lovingly maintained and is ready for you to make it your own. A circular drive leads you up to this eye-catching gem, and you'll find a 2-car garage, RV and boat parking, and an extra-large driveway for your convenience.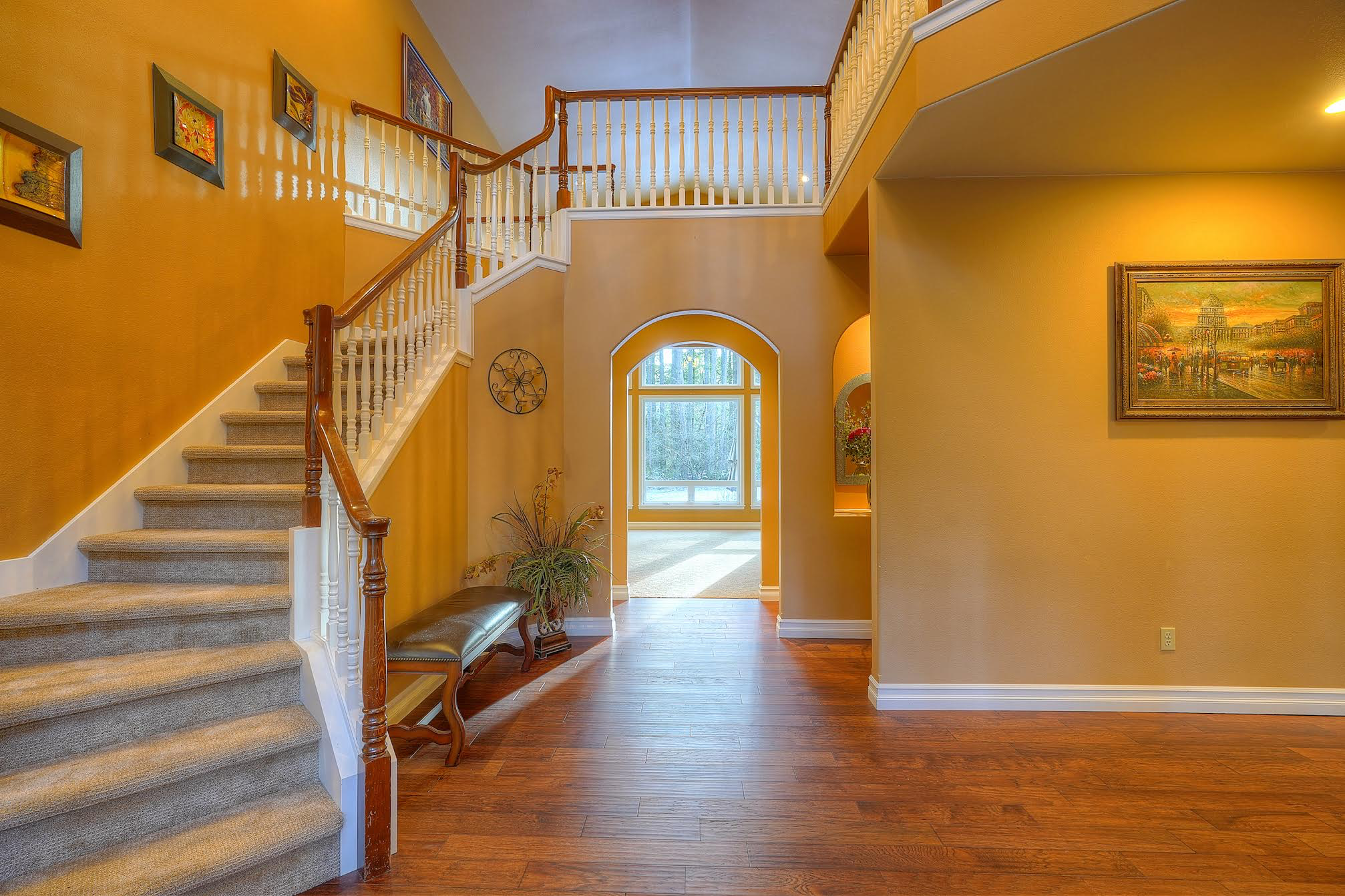 The front entryway is the definition of grand, with soaring ceilings, new hardwoods, and an impressive staircase that winds its way upstairs. Archways lead into the living room, where a sparkling wall of windows frame the natural scene outside. A balcony overlooks the living room and entryway, and stately columns elevate the overall sophistication of the space.
Opportunity for entertaining continues into the elegant dining room, where recessed ceiling details and stunning windows make for a truly magical experience. Imagine hosting dinner parties and holiday gatherings here!
The center of daily life awaits in the great room where you'll find an inviting living area, a sunny dining nook, and a well-appointed kitchen. The warm color palette adds to this haven's charm, and it's evident that each detail has been carefully chosen. In the kitchen, quartz counters, stainless steel appliances (including a double oven), and a walk-in pantry are all highlights, and those who love to whip up elaborate homemade meals or have baking marathons are certainly in for a treat!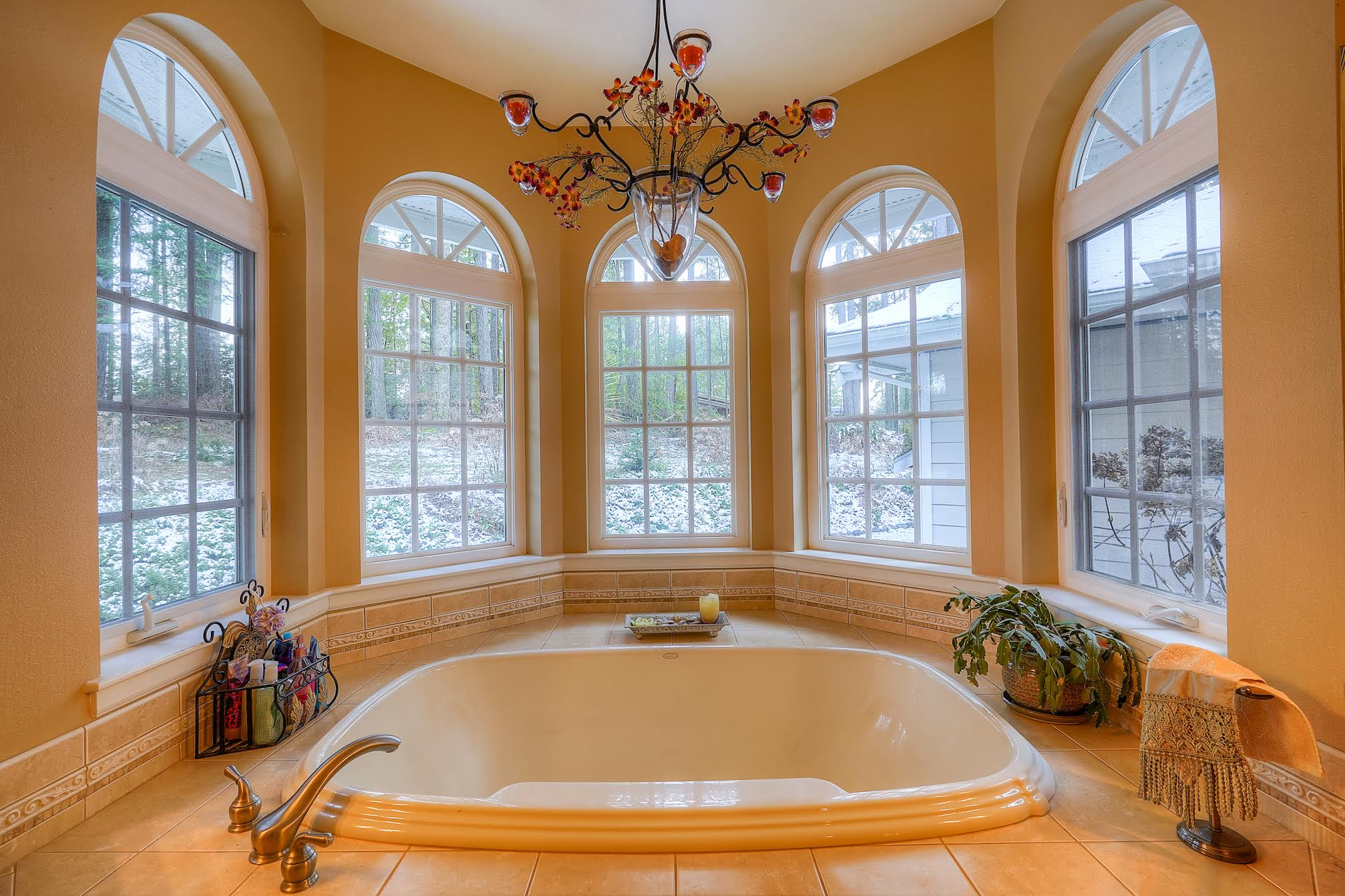 This home's main level features the master suite, a resort-inspired retreat designed for ultimate rest and rejuvenation. The palatial layout includes ample space for a sitting area, a dreamy walk-in closet with built-in organizational units, and a breathtakingly beautiful ensuite bath. The corner soaking tub is especially noteworthy—indulge in sumptuous bubble baths while natural light pours in through shimmering windows!
You'll find an office, laundry room, and half bath on the main level as well, and upstairs the additional 3 bedrooms and bath await.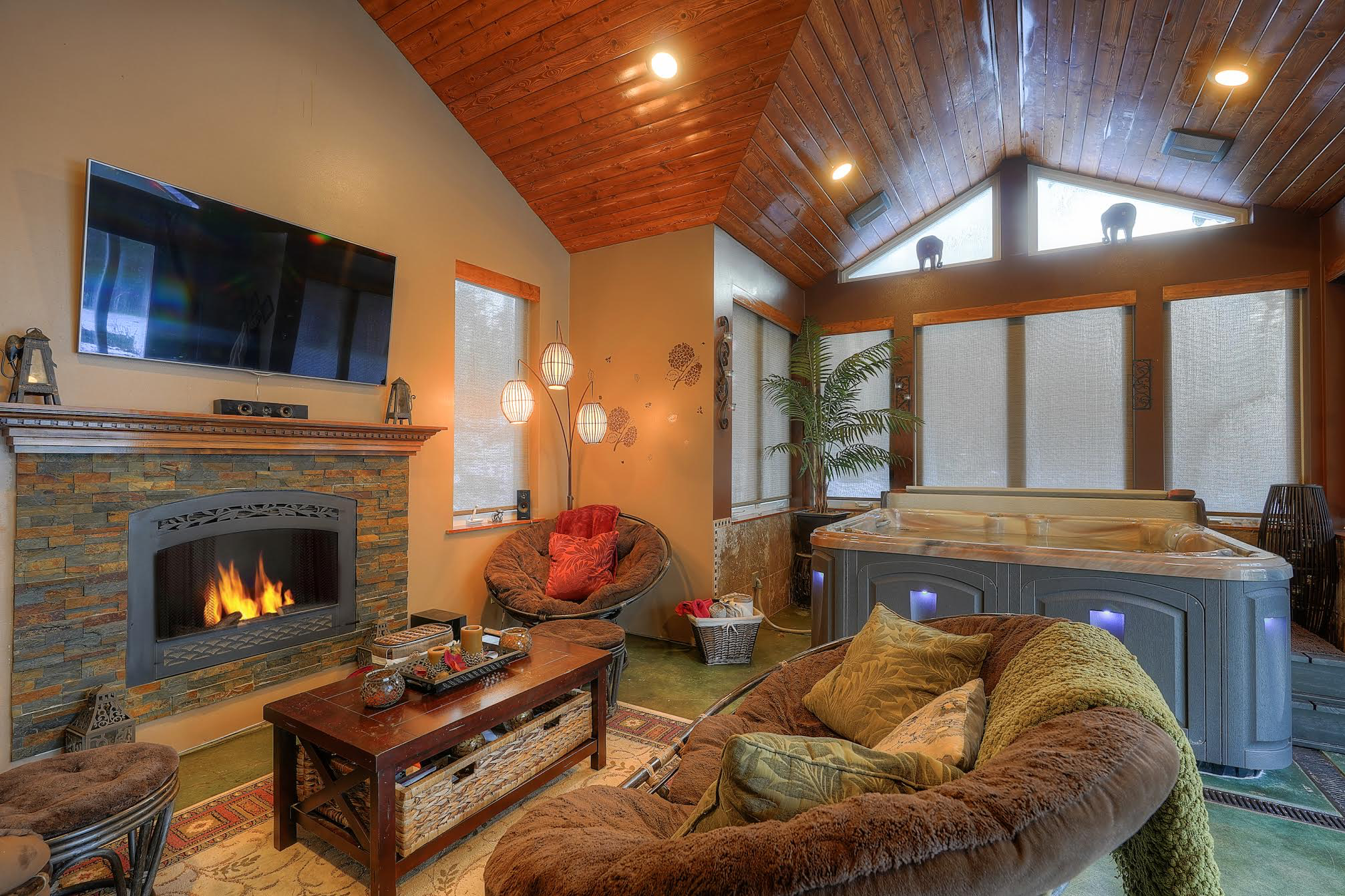 This property also features a cabana with a hot tub, a sauna, a fireplace, and a wet bar. Take advantage of this ultimate hangout without having to leave the comfort of home, and host a few friends or invite over everyone you know—there's room for a crowd! The cabana opens onto the patio, where a Koi pond is sure to captivate. The lifestyle you've always dreamed about having is tucked away in Gig Harbor!
Living in Gig Harbor
At 14426 88th Ave NW Gig Harbor, WA 98329, you're in a secluded area that feels miles away from it all while still being close to Gig Harbor city conveniences. Merely minutes from home you'll find local amenities like the Food Market at Lake Kathryn and eateries. Highway 16 is only an 8-minute drive from home, making it easy to access amenities along Borgen Boulevard, Uptown Gig Harbor, and beyond.
Interested in learning more? Click here to view the full listing! You can also contact REALTOR® Therese Gesch online here or give her a call/text at (206) 550-9407.